Custom Shutters for Your Houston Home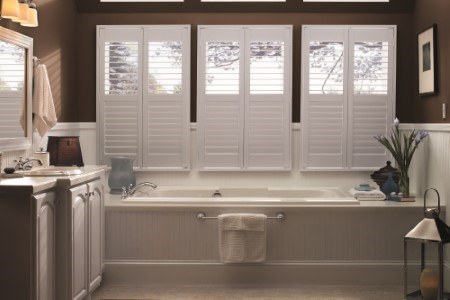 Looking to get new window coverings for your home in the Houston area? Then why not consider getting plantation shutters. This covering option will provide some great benefits for your home: benefits such as better aesthetics, excellent light control, and even increased property value.
If you're ready to enjoy all the benefits that plantation shutter can provide, then you need to call the Houston-based pros at Texas Shutter Company. Our shutter company offers a line of top-quality products to help you reap all the great benefits that this option provides. These products include . . .
Nothing brings out the beauty of your home quite like natural wood installations do. From flooring to furniture to all else, wood will make your home pop with beauty. So, to make your home look its absolute best, you might consider getting wood plantation shutters.
Wood shutters come in a stunning array of natural colors and textures that will provide a beautiful, one-of-a-kind look for any room. Added to that is their excellent longevity and durability, making wood plantation shutters a great choice for any home.
While wood shutters may certainly be beautiful, you may find yourself turned off by the price tag - especially if you intend to decorate your entire home with them. If that's the case, you can always enjoy a more inexpensive alternative: poly plantation shutters.
This window covering option is both low-cost and long-lasting, making it a great, affordable investment for any homeowner. If you're ready to enjoy the benefits that this option can provide, give our Houston window treatment company a call today.
---
---